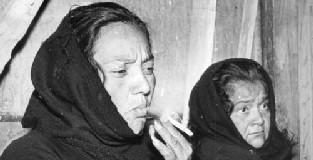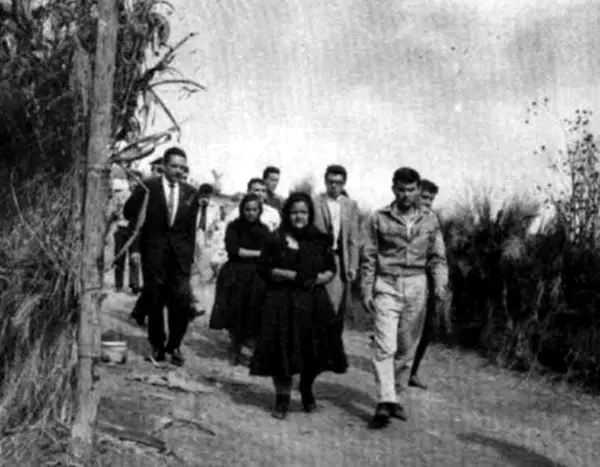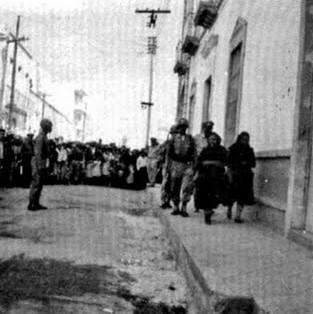 A mob awaits eagerly to lynch Las Poquianchis (foreground, in black)
as they are escorted by police.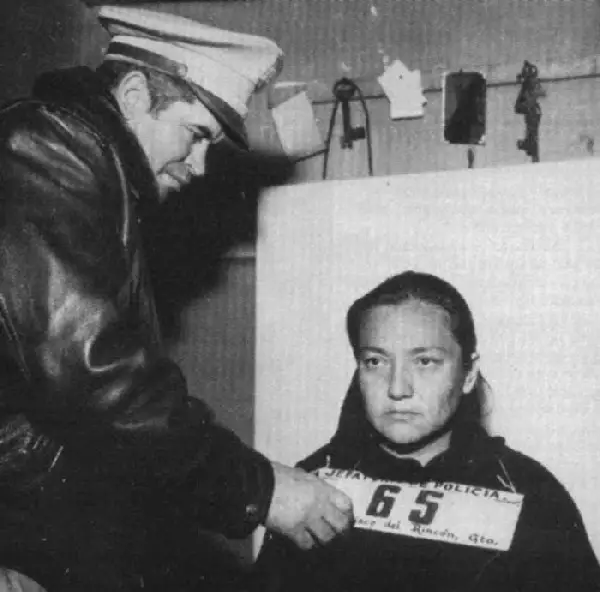 A Police Officer readies an unhappy Maria de Jesus Gonzalez for her mugshot
in San Francisco del Rincon, Guanajuato.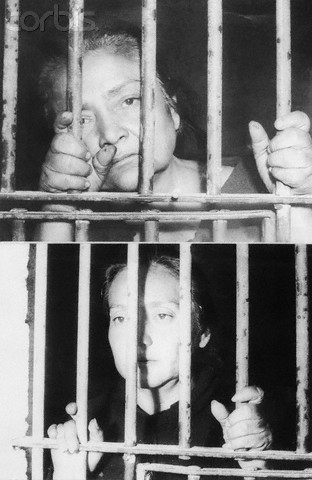 Delfina and Maria de Jesus Gonzalez Valenzuela.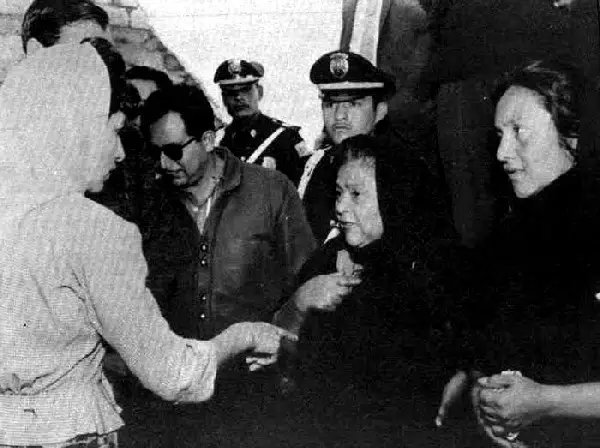 A girl points an accusatory finger at Delfina Gonzalez Valenzuela as Chuy looks on.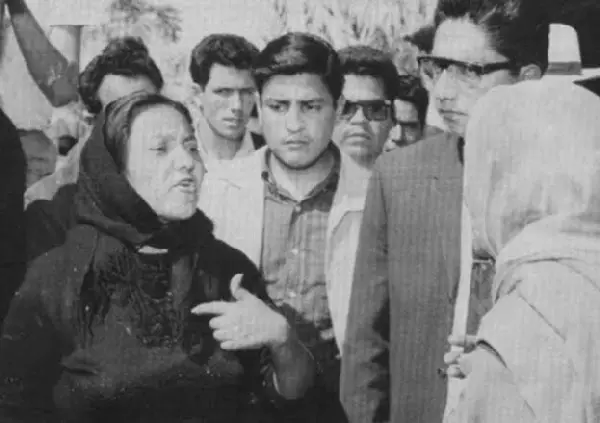 Delfina Gonzalez Valenzuela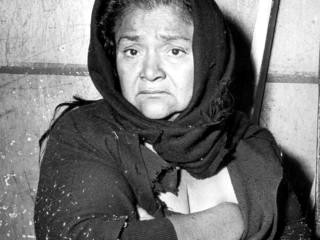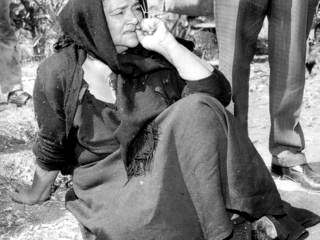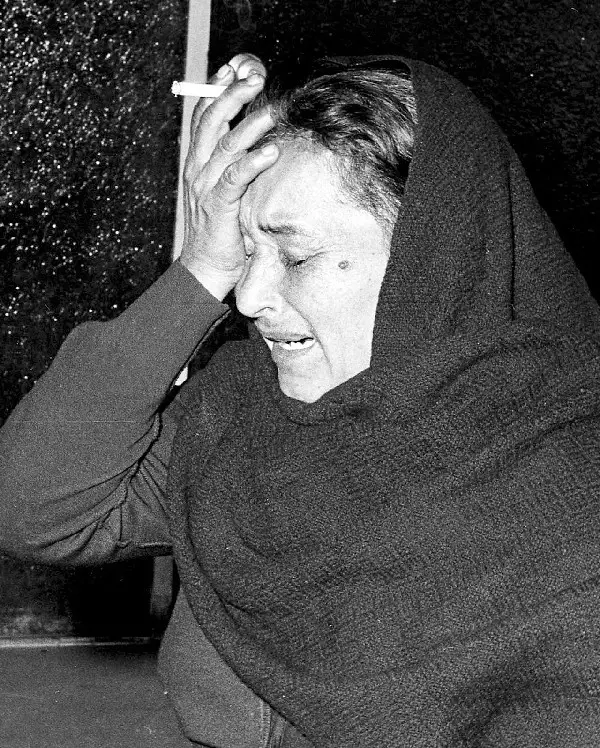 Delfina Gonzalez Valenzuela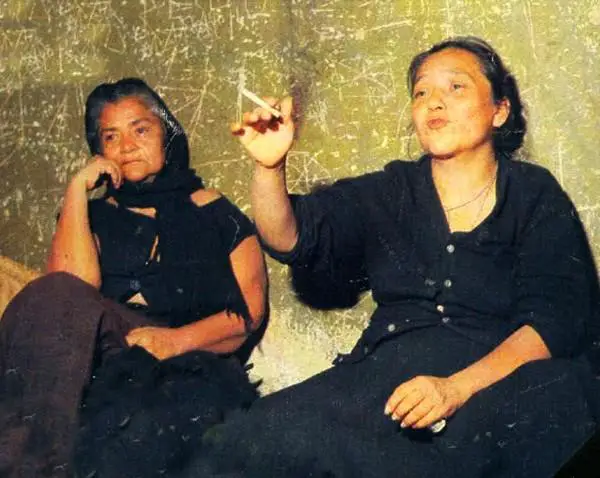 Delfina and Maria de Jesus Gonzalez Valenzuela.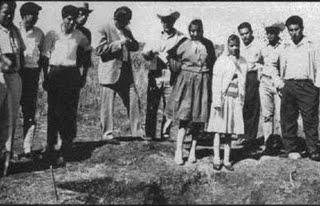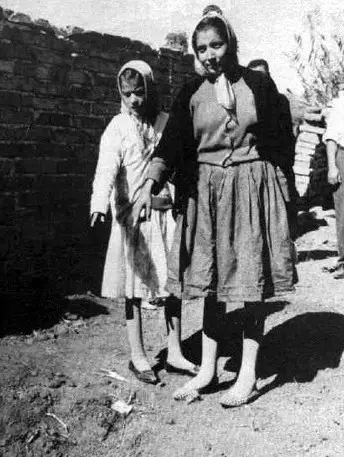 2 girls stand near a mass grave as curious villagers look on at Rancho Loma del Angel.
A.K.A.: "Las Poquianchis"
Classification: Serial killers
Characteristics: Owners of a Mexican brothel
Number of victims: 91 +
Date of murders: 1950s - 1963
Date of arrest: January 14, 1964
Date of birth: Delfina: 1912 / Maria de Jesus: ???
Victims profile: Women, men and fetuses (prostitutes, their babies, and male customers)
Method of murder: ????
Location: San Francisco del Rincón, Guanajuato, Mexico
Status: Sentenced to 40 years in prison in 1964. Delfina died in prison dur to an accident on October 17, 1968. Maria de Jesus finished her sentence and dropped out of sight after her release. It is unknown why and when she was freed
Delfina and María de Jesús González (known as "Las Poquianchis") were two sisters from the Mexican state of Guanajuato, located 200 miles north of Mexico City. From the 1950s until the mid-1960s the sisters ran Rancho El Ángel, called the "bordello from hell" in San Francisco del Rincón.
The police picked up a woman named Josefina Gutiérrez, a procuress, on suspicion of kidnapping young girls in the Guanajuato area, and during questioning, she implicated the two sisters. Police officers searched the sisters' property and found the bodies of 11 men, 80 women and several fetuses, a total of over 91.
Investigations revealed the scheme was that they would recruit prostitutes through help-wanted ads; though the ads would state the girls would become maids for the two sisters. Many of the girls were force fed heroin or cocaine. The sisters killed the prostitutes when they became too ill, damaged by repeated sexual activity, lost their looks or stopped pleasing the customers.
They would also kill customers who showed up with large amounts of cash. When asked for an explanation for the deaths, one of the sisters reportedly said, "The food didn't agree with them." Tried in 1964, the González sisters were each sentenced to 40 years in prison. In prison, Delfina died due to an accident, and Maria finished her sentence and dropped out of sight after her release.
Although they are often cited as the killers, there were two other sisters who helped in their crimes, Carmen and Maria Luisa. Carmen died in jail due to cancer; Maria Luisa went mad because she feared that she would be killed by angry protesters. The sisters were the subject of the 1977 book Las Muertas by Mexican author Jorge Ibargüengoitia.
Las Poquianchis: The Macabre Case That Shocked Mexico
Ecperez.blogspot.com
In the first weeks of January 1964, Catalina Ortega went to the Judicial Police office in Leon, Guanajuato and told a macabre tale. Visibly shaken, scared and showing signs of abuse and malnourishment, Ortega told the police officers that in nearby San Pancho, the Gonzalez sisters held a sort of concentration camp/ brothel. Thus began the most scandalous and sordid tale of prostitution and murder, the most shocking in annals of Mexican crime history.
Delfina, Maria de Jesus, Carmen and Maria Luisa Gonzalez Valenzuela were born in El Salto de Juanacatlan, Jalisco in poverty. Their father, Isidro Torres was an abusive and authoritarian man. He formed a part of the Rural police, during the Porfirio Diaz days, in charge of riding thru town and making sure everything was ok. A violent man, who often abused his power, he shot and killed a man during an argument. When his young daughters wore makeup or "risque" clothing not to his liking, he would lock them up in the town jail to teach them a lesson.
After shooting the man and gaining many enemies, Isidro Torres, his wife Bernardina Valenzuela and their daughters relocated to the small village of San Francisco del Rincon, Guanajuato, called San Pancho by the locals. As the Gonzalez Valenzuela sisters grew older, their constant fear of poverty made them open up some businesses in town. Together with some money they had they opened a saloon in San Pancho, and this bar, although it didnt bring in loads of money, it gave them enough to eat.
Later on they would venture into prostitution. The sisters would bribe local officials with money or the sisters would "bribe" them using their sexual skills. Nevertheless they opened up clandestine brothels in San Francisco del Rincon, Purisima del Rincon, and Leon in Guanajuato state other bordellos in El Salto and San Juan de los Lagos, Jalisco and another one in San Juan del Rio, Queretaro state, near Mexico City.
Carmen, Delfina and Maria de Jesus "Chuy", operated the whorehouses in Guanajuato and Jalisco while Maria Luisa "Eva the Leggy One" ran her bar/brothel near the Mexican border. The sisters bought a bar in Lagos, Jalisco from a gay man nicknamed "El Poquianchi" . The nickname was passed on to the sisters, who were now called Las Poquianchis, a nickname they hated.
They would prowl the countryside, hitting the nearby ranches in Guanajuato or venture into rural Jalisco and Michoacan states and look for the prettiest young girls. They would offer them jobs in Guadalajara or Leon, as maids or waitresses. The poor young peasant girls, with dreams of life in the big city and money, would be happy to oblige. Other times the Gonzalez sisters, with the help of an Army Captain/Henchman and Delfina's lover, Hermengildo Zuniga, would simply snatch the young girls, never to be seen again. In the late 1950's Carmen died due to cancer.
At their "Guadalajara de Noche" and "Barca de Oro" Bars, the young girls would be put to work. The prettiest virgins were saved for later, awaiting patrons with fat wallets, who would pay top peso for an untouched girls. The others would be raped, intimidated and showered with ice water as initiation. The girls would have to buy their clothes and makeup strictly from the Gonzalez sisters.
The girls, held against their will, never being allowed to go outside were controlled by the sisters and Zuniga "The Black Eagle". Delfina's son Ramon Torres "El Tepo" also served as muscle, keeping the girls in line. For years the sisters made tons of money selling booze and whores to soldiers, councilmen, cops and horny villagers.
When one of the girls got pregnant, she would be beaten and forced to abort, the fetuses dumped in the back yards of the brothels or buried at the sisters main ranch that resembled a concentration camp, Loma del Angel. If a girl got too sick, due to malnourishment or an STD or due to an impromptu abortion, she would be locked in a room, starved to death or the other girls would be forced to beat her to death with sticks and heavy logs. "The Black Eagle" and the sister's chauffeur handled the bodies, burning them to ashes or burying them in mass graves. Johns with a lot of cash would also be murdered and their bodies buried, and their cash stolen.
in 1963, Ramon Torres "El Tepo" got into an argument with Lagos de Moreno, Jalisco cops and was shot to death inside one of the Gonzalez' sisters brothel. The police closed down the place and its said that Delfina, Tepo's mother, in a fit of rage ordered Hermenegildo Zuniga to track down the cops who killed her son and kill them on the spot. And kill them he did.
In January 1964, one of the Gonzalez sisters "whores" managed to escape Loma del Angel through a small opening in the wall and fled. Zuniga and his cronies searched for Ortega to kill her but they could not find her throughout the countryside. Ortega managed to get ahold of her mother and together they went to the Leon, Guanajuato police to file a complaint. She was in luck, the cops she talked to were not on the sinister sister's payroll. They soon got a search and arrest warrant against Chuy and Delfina Gonzalez and on January 14th, 1964 they raided Loma del Angel ranch.
There the sisters, still dressed in black, mourning El Tepos death and wearing shawls were herded throughtout the ranch, while angry villagers gathered outside demanding to lynch the sisters. Police and reporters found a dozen emaciated and dirty women at the ranch, locked in a room. As police and reporters explored the ranch, some of the girls pointed to spots in the ground and told them thats where they would find "the bodies".
Angry and shouting obcenities at their new accusers, the Gonzalez Valenzuela sisters could do nothing but watch as their chauffeur, also arrested, was forced to dig. There authorities found decomposed bodies and the bones of at least 91 women, men and fetuses.
Under heavy military guard, the sisters were taken to a jail San Francisco del Rincon, but seeing as how the whole town wanted to lynch the women, a judge sent them to squalid Irapuato City Jail. A week later, Maria Luisa Gonzalez Valenzuela went to a Mexico City police station and turned herself in, fearing being lynched. She thought she was immune, a judge had granted her immunity from the charges her sisters faced but upon arriving in Irapuato she too was arrested. There began the hectic interrogation and sensational trial of the century.
Dozens of ex prostitutes accused the sisters of rape, murder and extortion. The women accused "The Poquianchis" as the women were dubbed by the media, of dabbling in Satanism, forcing the women to practice sexual acts on animals, and killing and torturing dozens of young girls and johns. They accused Delfina, Maria Luisa and Maria de Jesus of corrupting and bribing local and state authorities, who were also regulars to the sisters bars and brothels. The chaotic trial, peppered with insults and yelling back and forth from the Gonzalez sisters and their accusers was short and a judge sentenced the 3 sisters to 40 years in prison.
Delfina Gonzalez Valenzuela, the oldest "Poquianchi" went mad, fearing she would be murdered in jail. On October 17, 1968, while she screamed and ranted, workers doing reparations above her cell in Irapuato jail, looked down to catch a glimpse of the notorious woman and accidentaly dropped a bucket of cement on her head, killing her.
Maria Luisa Gonzalez Valenzuela "Eva the Leggy One" died alone in her cell at Irapuato jail on November 19, 1984. Her body, already being eaten by rats, was discovered a day later.
Maria de Jesus Gonzalez Valenzuela, the youngest of the "Poquianchis" was the only one to be freed. It is unknown why or when she was freed, but legend has it she met a 64 year old man in prison, and once both were outside, they married and lived their life in obscurity, finally dying of old age in the mid 1990's.
In 2002, workers clearing land for a new housing development in Purisima del Rincon, Guanajuato, down the road from the notorious Loma del Angel ranch, found the remains of about 20 skeletons in a pit. Authorities said the victims were probably buried there in the 1950's or 1960's, victims of Las Poquianchis.
If this is true, it raises the number of murders past 110 people.
(Authors Note: An aunt of my mothers was one of the girls duped into working for the infamous Poquianchis. Out of Guadalajara she was recruited by one of the sisters, either Delfina or Chuy, I forget, but my mother's aunt had luck. She was never forced to prostitute herself but she did help around in one of their seedy bars in Guadalajara. She said the women never really mistreated her other than not paying her enough for her work. Its a subject she doesnt really discuss for obvious reasons).
Gonzales, Delfina (?- ); Maria de Jesus (?- )
SEX: 2F RACE: H TYPE: S MOTIVE: CE
DATE(S): 1950s-63
VENUE: Guanajuato, Mexico
VICTIMS: 100+
MO: Sisters and white-slavers; killed prostitutas, their babies, and male customers (who were also robbed)
DISPOSITION: 40 years each, 1964.